Book Review: Friendship (An anthology)
Introduction
ISIN: 978-81-931666-3-5
Genre: Fiction / Anthology
Publishers: Shades Publishers
Price: Rs. 200/- ( I got the book from the editor Saravana Kumar Murugan for a review)
True friendship is defined as a natural and spontaneous reaction towards a person with unconditional love and ultimate support to a person in all areas of life. A true friend is the one who is always with you when the entire world rejects you. A true friend is like a mirror who reflects the real you to you. In this unpredictable world of twists and rough roads, a true friend is a blessing, a rejuvenating factor, and is always fresh. Friendship- Bonds Beyond Time by Shades Publications, cherishes such true friendship, and this collection of 25 short stories on Friendship is a dedication the all true friends in this world.
The kindle version is available worldwide. If you are an Amazon Prime Customers and Kindle Unlimited customers, then you grab the book free of cost
HERE.
Behind The book
Copyright (C) Privy Trifles
Me thinks
As I have always mentioned in so many reviews of mine, it is always a pleasure to see my fellow bloggers get published and review that work on my blog. With this book not only some of my friends got published but one of them also made a debut as the compiler and the author, which is super amazing for me! It thrills me to see my friends carve a niche for themselves in this big publishing industry.
I held the book in my hand with a lot of pride undoubtedly and flipped through the pages excitedly to go through the stories. I finished the book is 2 hours and was thrilled to bits upon doing so. I usually review a book after almost 2-3 days of reading it. So here I am trying to share what this book made me feel.
I usually judge a book on its cover and somewhere here I feel the book lacked to gather my attention it somehow looked more like a banner on friendship in Archies or other gift shops. I would have preferred something more detailed along with a blurb which tells me what to expect inside.
Coming to the stories, I am surprised to the fact that except a few handful of stories almost every story has friendship in love or love in friendship. To my utter disappointment they never spoke about the undying friendship, childhood buddies, sharing everything in life and making memories type of friendship at all. Even when I was a part of 25 strokes of kindness the jury had then written that many stories have made love as kindness which is not what they are looking at. Kindness is a theme, not a genre. And writing about love is in romance as a genre like ways here friendship was a theme and not a genre.
I loved the way some of the stories redefined friendship in their own unique ways - a special mention to A tale of two mice by Saravana Kumar Murugan. Scarlet's rose by Aashi Dahiya, Two little sparrows by Rounak B R Chowdhury, Friends for life by Debashish Mishra, The Pursuit by Prakash Guru, Soul-mates by Tapobrata Kumar... their stories reminded me of my college days and some friends I lost to life. That is what the theme of the book promises to be - make you nostalgic and remember that one friend whom you have cherished throughout your life.
A tale of two mice by Saravana Kumar Murugan - This story came as a breath of fresh air amongst stories that have been just revolving around best friends turned lovers! What I liked about it is the minute observation the author has made in his story through his writing skills he has brought out the beautiful nuances of life in a profound manner. I bet you will never look at rats the same way after reading this one.... I am sure I won't!
Scarlet's rose by Aashi Dahiya - I have always felt that friendships made in childhood are the strongest as they are the ones who have seen you through your funniest, crappiest and the best phases of life and still love this. This story is a testimony to me belief. The most amazing part of this story was the way the author dealt with emotions. Relying purely on them she has written a story with a wafer thin plot but depicted it in an excellent fashion!
Two little sparrows by Rounak B R Chowdhury - My personal favourite that tops the list this story talks about the differences that exist in our society and where things like friendship and love are also not spared from the discrimination. What Krishna and Sudama had to face, still exists and many friendships also face the same ire. The narrative was soul stirring.
Friends for life by Debashish Mishra - If like me you have ever lost a friend to misunderstanding you will love this one. This is a story of how misunderstanding and miscommunication breaks friendships beyond repair and all it takes is one step and one word to clarify things. At times we delay the apology or the clarification losing the friendship for a lifetime. This story depicts how important is an apology at the right time as nothing can be more precious than a dear friend.
The Pursuit by Prakash Guru - I loved this story purely for the plot. It was unique in a way, when I began reading it I felt it would be a predictable ending with a cliche plot getting the same done to death treatment it has got from millions of others till now. And that is where the author surprised me, though I have a slight disconnect with some of the words used in the story he has managed to pull it off very well!
Soul-mates by Tapobrata Kumar - Heart tugging and painful this story has a voice of its own and perhaps that's what makes this one stand out despite having love as the base this story talks about friendship and that is what makes it unique!
Nevertheless about the theme of the stories, what I enjoyed the most is the uniqueness in terms of plots that each author has tried to bring in, in every story. Be it the characters, the settings... the writing speaks volumes about the growth Indian writing is witnessing. Here's wishing each one of them best of luck in chasing their dreams!
Over all a recommended read for it promises a full value for money in terms of the stories which are a quick entertaining read! Ideal for journeys or lazy afternoons on weekends when the multiplexes don't excite you that much, especially when you enjoy light reads.
Foodie Verdict
This book is like peanut butter and caramalised banana panini - out of the box combination resulting into some amazing tastes (read: stories)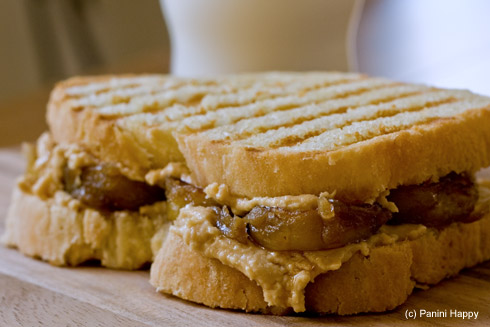 Source: www.paninihappy.com